Our Services
Why Choose Us?
24 Hour Emergency Service
Over 25 Years Of Experience
Technicians Are State Certified & trained In Both Pest & Termite Control
Money Back Guarantee
Residential & Commercial Quarterly, Monthly, & Bi-Monthly Service
Same Day Service
Quick Response Time
Quality, Dependable Service
General Pest Control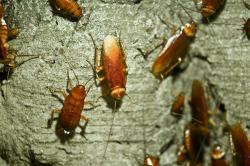 When insects and other unwanted visitors invade your home, you need, fast, reliable pest control services to eliminate the problem before it gets worse. Insects and bugs can make your indoor living space unsanitary, and often, spraying store-bought repellent won't rid you of the problem for good.

For thorough, effective pest control in Southwest Virginia, call in the experts at Curry Termite & Pest Control LLC. We've battled our fair share of insects in the past and have the tools and experience necessary to nip pest invasions in the bud.

At Curry Termite & Pest Control LLC, we place a heavy emphasis on customer satisfaction, and we pride ourselves on our:
Prompt response times
Reasonable rates
Courteous, dependable pest exterminators
Don't suffer with unwanted pests when help is only a phone call away. Contact Curry Termite & Pest Control LLC, and get ready to bid your pest problems farewell.